CatScapes Cat Shelves
CatScapes

is proud to support ZenByCat



CatScapes Cat Shelves is a game-changing modular climbing system for cats. Elegant, adaptable, easy to install, and engineered for cats to play at full velocity, the design possibilities and fun you and your cats will enjoy are infinite.
Kate Benjamin, cat product expert, founder of Hauspanther LLC and co-author of New York Times bestsellers Catification and Catify to Satisfy, says:
"In eleven years of covering the cat product industry, I've never seen a cat shelf system that allows for such easy customization. This is a truly game-changing product."
Mikel Delgado, certified cat behaviorist and co-author with Jackson Galaxy of Total Cat Mojo writes:
"The design is intuitive and exciting - CatScapes Cat Shelves will provide cat owners with limitless options for designing an enriched environment for their cats. I can't wait to see it hit the market!" 
"More than elevated places to perch and sleep, CatScapes Cat Shelves invite cats to run, jump, climb, and play, all of which is so important to their well-being and satisfaction. Keeping in mind the very real needs of people, this shelving system is also easy to install and beautiful. After two years of product development with engineers, designers, and cat experts, it is thrilling to share CatScapes Cat Shelves with the cat-loving community."
-Aaron Feldman, CatScapes CEO
The key to CatScapes' modular system is a patent-pending adjustable hinge bracket system that allows you to position each shelf at any angle. You can connect multiple shelves together to create longer ramps and runways and to build hubs that direct the flow of traffic on your cat superhighway!
Three different wall brackets combine for total customization:
Single Bracket – used at the end of a shelf or ramp
Double Bracket – connects two shelves or ramps together
Triple Bracket – functions as a hub, connecting three shelves (note, the triple bracket must be used with a cutaway shelf above, allowing cats access to the upper level, see example below)
There are three kits from which to choose. All can be arranged however you wish and can be combined to extend and expand your catscape to your heart's and cats' content! For people who want to use their own boards, individual brackets are available as well, but note that CatScapes shelves are crafted to work with the brackets especially well. Note too, that the entire system is modular, so carpet pads can be replaced as needed.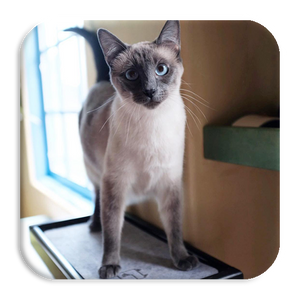 Quick View